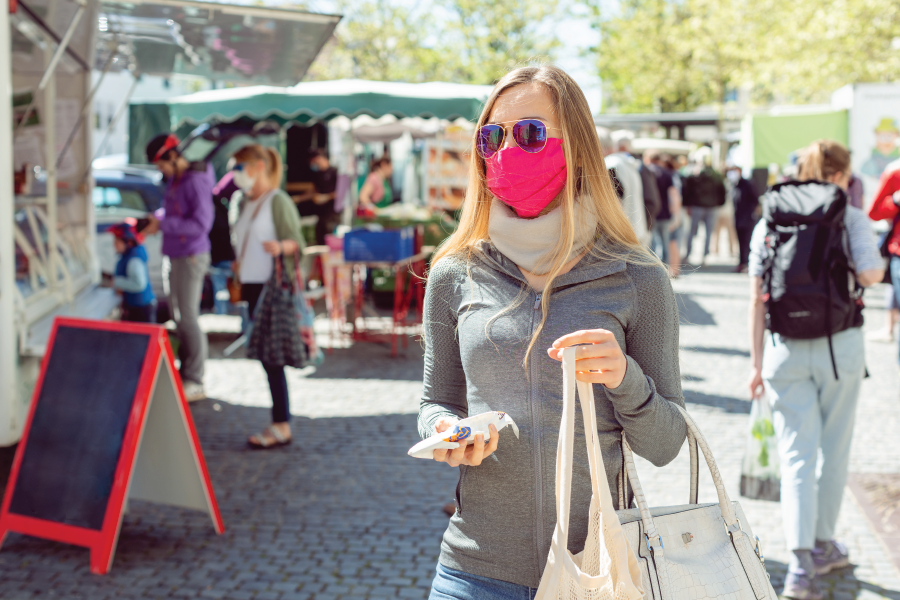 The Greenville Farmers Market began in 2003 right around the time downtown Greenville was being rediscovered. It started small; hidden away on an off the beaten path side street, with less than two dozen regular vendors participating that first season. The Market's popularity continued to grow and in 2007 the entire market was moved to Greenville's Main Street, where for the past 13 years it has expanded from fresh locally farmed produce to include offerings of high quality arts and crafts, live music, chef's demonstrations, children's activities and so much more.
Greenville is also home to the Greenville State Farmers Market. As the downtown Market grew it was rebranded the Saturday Market in order to avoid the inevitable confusion. Currently sponsored by TD Bank, the one important requirement that sets this farmers market apart from so many others, is all vendors only sell locally sourced products. Food items have to be grown or produced within a 100 mile range of Greenville and artists are strongly encouraged to create their handicrafts using locally manufactured supplies.
Market Changes Due to Covid-19
Farmers markets just like all other retail businesses have had to make difficult decisions in this time of Covid-19. Currently for the 2020 season the TD Saturday Market has been renamed the TD Essential Market. Open each Saturday now through October 31st, (there will be no Market on Saturday, October 10th) from 8AM to noon, the Market's Covid-19 requirements are as follows:
All shoppers will be limited to one single entrance and exit located on McBee Street. The number of shoppers will be monitored to allow only a certain number of people in at any given time.
There will be no live music or other forms of entertainment, no artisans, no public seating and no cooking demonstrations.
There are 80 vendors this season, rotating weekly with a limit of 40 vendors each Saturday. No prepared food will be available for purchase and no samples allowed.
There will be adequate spacing of at least 10 feet between each vendor and shoppers are asked to make a list before coming to the Market in order to be able to shop quickly and efficiently. Staff and vendors may ask shoppers to keep moving in order for others to be able to shop safely.
Shoppers are encouraged to bring their own reusable shopping bags.
Masks or some other form of face covering is MANDATORY for all staff, vendors and shoppers.
There will be tape markings indicating social distancing requirements along with plastic cones and signage throughout the Market reminding all shoppers to be aware of their surroundings and to be courteous of other shoppers.
Public handwashing stations along with hand sanitizing stands are now located throughout the Market.
Vendors will be sanitizing tables, POS terminals and all other frequently touched surfaces on a regular basis.
Please use a credit or debit card or pay with exact change.
Shoppers are being asked not to touch any items that are for sale. Visually select your produce and other merchandise, tell the vendor what you are interested in and they will do the rest.
Be patient. Be courteous. Wear your mask. Stay safe.
During these trying times it is a sign of strength and resilience to work with others toward a new normal. Being able to support our farmers by buying local whenever possible is one step in helping our area's economy while keeping ourselves healthy with plenty of fresh fruits and vegetables.
Considering listing your home this summer? Call Carolina RES at 864-242-1099 to ensure your home is in "ready to sell" shape before calling your Realtor.