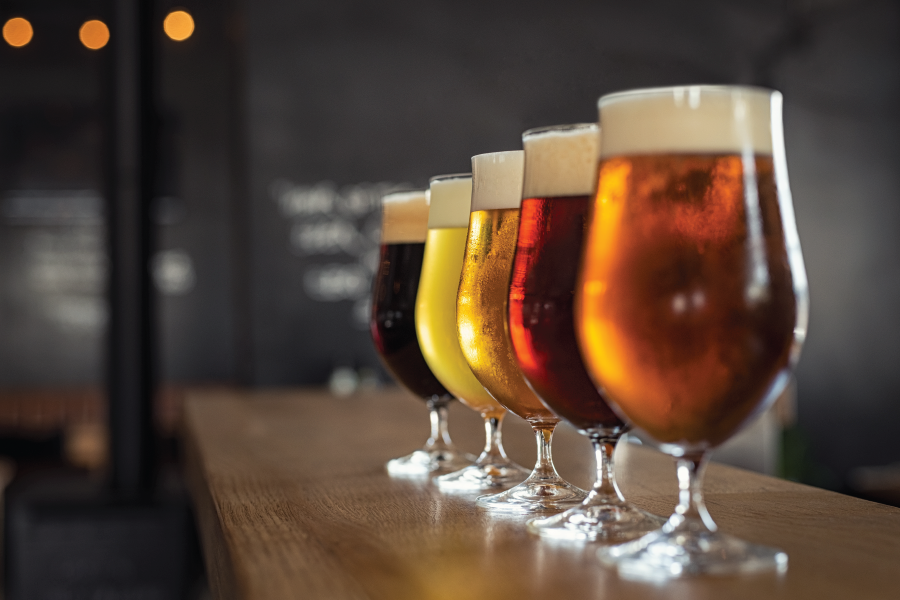 Lately it seems like from Landrum to Travelers Rest there is a new craft brewery on every corner. And while many of us agree there can never be enough beer it's so hard to decide where to try next. To help in your quest, we've complied a list of some of the most popular craft breweries in and around Greenville and Spartanburg counties.
All Around Greenville
250 Mill Street in the Print Works #3 Building
Taylors, South Carolina 29687
13 Stripes Brewery opened in 2017 in an 8,000 square foot open concept space at the Taylor's Old Mill. Currently located right next door to The Farehouse, makes it super convenient for those who like a little nosh with their craft beverage. Sporting a military theme, 13 Stripes is owned by two brothers who are both huge American Revolutionary War buffs and wanted their brewery to reflect that. 13 Stripes hosts special events including a rotating cast of food trucks and themed trivia nights.
Also, for those on the other side of Greenville County, visit the 13 Stripes River Lodge located on the Saluda River in Easley.
Greenville, South Carolina 29601
Come for the beer, stay for the pizza. Pangaea brews both craft beer and non-alcoholic kombucha and recently in honor of the opening of Unity Park, joined forces with Methodical Coffee and Southernside Brewery to create Unitea, an Earl Grey Pale Ale. Wanting to highlight the growing number of businesses located at The Commons and surrounded by the long-awaited Unity Park, these three thriving businesses took the first step in achieving that goal. Serving hand tossed brick oven fired pizzas, and salads sourced whenever possible with local ingredients, Pangaea welcomes everyone to stop by for a beer and a slice while participating in their Wednesday night trivia contest starting at 6:30PM.
Greenville, South Carolina 29601
Heading downtown for a special evening? Or perhaps you live in one of the fantastic new condos or apartments and are looking for a place you can easily walk to? Then come check out Fireforge. Located in the former tire warehouse at the corner of Washington and Church, Fireforge, a small batch craft brewery, always has at least 15 taps pouring nightly along with in house made snacks and sandwiches. Plenty of outside seating allows you to take advantage of the stunning sunsets against the backdrop of a vibrant and growing Greenville.
Let's check out Spartanburg
Spartanburg, South Carolina 29306
This brewery with the memorable name is unique in that it is both 100% woman owned and also 100% woman brewed. And with 30 taps, 28 of which are dedicated to their own craft brews and ciders, it's a good thing their head brewer, Alisha Kelly, loves her job. A brewery that believes in giving back to the community, there is always something going on throughout the year with their Cheers for a Cause drives and fundraisers. Fun is also on the menu here! From movie nights to karaoke, special event multi-course dinners to book signings, every visit is an adventure.
Boiling Springs, South Carolina 29316
Crafting both beer, sours and even sodas for those looking for something non-alcoholic, New Groove also has an ample menu serving everything from burgers and BBQ to killer smoked bacon cheese and macaroni and their famous Boiling Springs Groovy Pretzel. And their amazingly eclectic groovy brunch is available every Sunday from 11AM-6PM. One of the other things New Groove is known for is their sour beer program. They are hands down one of the Upstate's leaders in crafting a wide variety of specialty sours.
Spartanburg, South Carolina 29306
We would be remiss if we didn't include RJ Rockers on this list. Spartanburg's original brewery, RJ Rockers was instrumental in the downtown's revitalization. Opening way back in 1997, they led the way for the Spartanburg County's craft beer industry to grow and thrive. Now operating out of their state-of-the-art solar powered microbrewery, RJ Rockers is still creating and serving up some of the most popular hand-crafted beers enjoyed in the Upstate. They also have live entertainment and food options from snackies to sandwiches and flatbreads. Another great option found at RJ Rockers is their beverage menu. Along with draft and canned brews, they also offer cleverly named beertails, rock-tinis and rocktails.
For more information including hours of operation and daily offerings for any of the breweries listed above simply click on the highlighted name and the link will take you to their website. Also, please remember to drink responsibility and never hesitate to use a ride share if necessary.