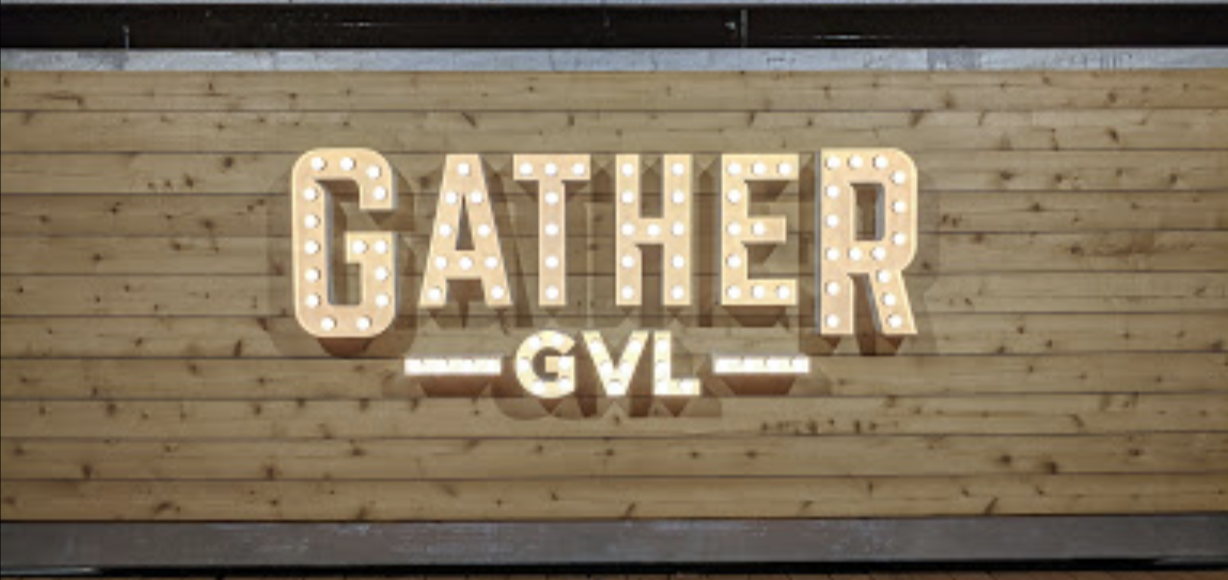 An exciting new concept is now open in downtown Greenville, bringing together friends and family for diner style burgers, sweet treats and refreshing adult beverages. Think mall food court on steroids with over 12 food and beverage stations all centered around an open air courtyard with shared seated, plenty of green space for the kids to romp, a raised stage for local musicians, and even a wide screen showing the latest sporting events.
Developed by the father and son team of Doug and Mack Cross, Gather GVL located at 126 Augusta Road, across the street from the South Carolina Children's Theatre and right around the corner from Fluor Field, is revolutionizing the West End. Open Tuesday through Saturday from 7AM-10PM, Sunday 8AM-8PM, and closed on Monday, Gather GVL is the perfect spot for an early morning business meeting, a freshly made smoothie after a good workout, a quick burger or taco for lunch, or a leisurely after work happy hour. Tired of trying to figure out what to feed the fam for dinner? Load up the car and head over to Gather GVL, where with over 13 culinary concepts, everyone will leave satisfied.
Constructed from steel fabricated shipping containers, each personalized to reflect their unique offerings, Gather GVL includes the following savory selections:
Hendough Chicken & Donuts: no longer will Greenvillians have to drive to Hendersonville to get their smothered chicken biscuits. One of the first concepts to sign on the dotted line, Hendough specializes not only in fried chicken but also in a rotating selection of yeast raised doughnuts.
Greenville Beer Exchange: the perfect place to hone your craft beer palate.
West End Coffee Bar: a Greenville staple with their West End Coffee Roasters coffee being served and sold in many of our area's favorite restaurants and grocery stores, all coffee beverages from lattes to nitro cold-brew is made with freshly brewed West End beans.
Prost!: it's Octoberfest all day long at Prost! Come enjoy a traditional bratwurst along with your favorite German beer.
Rocky Moo: ice cream sandwiches, milkshakes, floats and other frozen confectionary treats. What more is there to be said? Except YUM!
KO Burger: remember Arnold's Drive-In from Happy Days? KO Burger serves up the same type of smashed burger fried on a flap-top grill along with piping hot French fries and hand scooped milkshakes. Just like Arnold's, minus the car hops!
Saki Saki: poke bowls are all the rage and Saki Saki puts their own special spin on the traditional. Craving hibachi? They gotcha covered.
Sweet Sippin': from red to white to rose, Sweet Sippin' offers a wide variety of wines by the glass or bottle.
The Pasta Addict: whoever said pasta was hard to eat obviously never met the owners of The Pasta Addict. Their menu includes freshly made pastas and sauces all served in portable cones.
Mike's Cheesesteaks & Roast Pork: Owned and operated by a Philly native, this guy knows his way around a cheesesteak. Heck, even his bread is brought down from Liscio's Bakery in New Jersey. And true Philadelphians will be lining up for his classic roast pork hero.
Al Taglio: Roman style pizza, a hit all across the world, has now come to Greenville. With five traditional toppings and a rotating cast of five more depending on seasonal offerings, Al Taglio also has a vegan option on the menu as well.
CocoBowlz: come get your healthy on with a super yummy acai bowlz. Or enjoy a freshly made to order smoothiez, or juicez blend.
Mercado Cantina: a food menu heavy on offerings from the Yucatan region blended with seasonality in mind, Mercado also includes a full bar with a tequila and mezcal inspired cocktail menu.
The place to meet, mingle, eat and drink with an eye toward community involvement, environmental sustainability and multicultural relationships, Gather GVL is a true family friendly gathering place. Oh, and one more thing, Gather GVL is also leashed pet friendly! So text the neighbors, grab the kids and Fido, and come out to Greenville's latest and most unique open-air food hall.