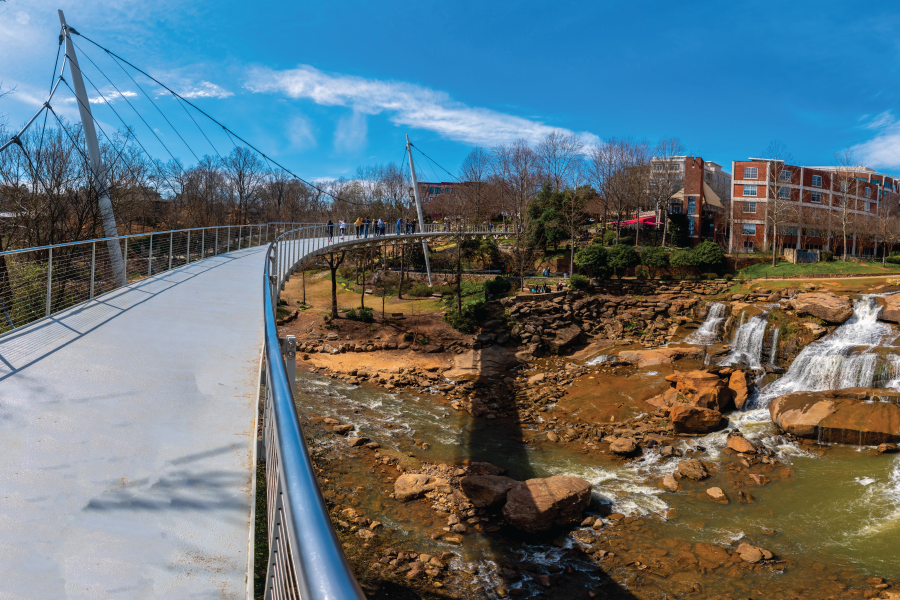 Once upon a time the area west of downtown Greenville was a thriving micro town due to the presence of several large textile mills including the Brandon Mill, Woodside and Judson Mill, complete with surrounding neighborhoods of mill village homes. The nearby business district included grocery stores, retail shops, taverns, restaurants, community centers and even a movie theater. There also was what many called the first outlet store in South Carolina when the Brandon Mill company store began selling overruns to the general public.
By the early to mid 1970's due to foreign competition and the introduction of computers replacing humans, cotton mills throughout the South, including those in West Greenville began closing. And as the mills closed so did the surrounding businesses, turning what was once a thriving hub of commerce into an area complete with crime, drugs and poverty.
The early 2000's saw a major change in downtown Greenville with the cleanup of the Reedy River and the creation of Falls Park and the Liberty Bridge. This new attitude began to find its way over to West Greenville and the Pendleton Street Arts District was created. Unfortunately before it had time to grow roots, the Great Recession began and any progress West Greenville had made was lost.
But now here we are in 2020 and like a phoenix, once again West Greenville has risen from the ashes. Now known as The Village there are more than 60 shops, galleries, bars and restaurants open and thriving. There are also renovated housing options and a wide variety of businesses and community venues including the South Carolina Children's Theater. In fact, the New York Times August 16, 2019, 5 Places to Visit column, featured West Greenville specifically.
Now residential home builders and developers are taking note and in addition to some of the original mills that have been renovated into loft apartments and condos, several new single family residences have been constructed over the last couple of years, including the Burdette Street Cottages. Nothing speaks of a different era than the solid construction of a mill home built in the early 1900's. Now just image taking the quality of that same home and modernizing it. There are numerous West Greenville homes that have been completely restored and are ready for immediate occupancy.
With social distancing becoming the new buzz word, Carolina RES wants everyone to know we are still here for you whenever our services are required. We practice all prescribed Covid-19 safety guidelines and invite our clients to connect with us either online or by calling 864-242-1099.